Your compliance management software
How our compliance management software works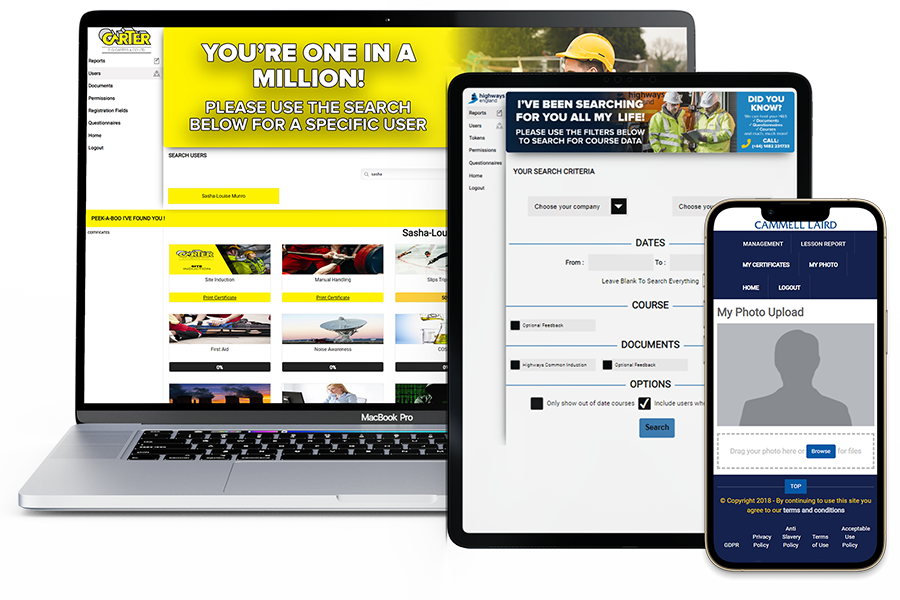 Let's see how you can build your journey with us.
The Power Plus Compliance Management Software: Meet the features

Intelligent Sign Up
The first part of our Compliance Management Software is the Intelligent Sign Up. Once a person signs up with their individual details the PowerPlus Compliance Management System quickly works with your Training and Documentation matrix to only deliver the information that's relevant to that individual person. No more checking your matrixes for who's done what, our Induction and Compliance Software system does it all automatically!

Hosting of Site Specific Inductions
Our team of qualified experts can script, film and animate any Site Specific Inductions you might already have and once completed they can easily be added to the Compliance Management Software System random questions, ensuring that the person undergoing the Induction not only understands it in a clear and concise way but they receive a message that's delivered the same way time after time.

Health & Safety Training Courses
Our Compliance Management Software automatically delivers the correct courses that employees require.
Some might work in an office environment and require DSE and Cyber Security Training while other site workers may need Working at Height and Manual Handling Courses. Our Compliance Management Software System takes all this in its stride and can specifically target which person gets which course through the Intelligent Set Up System.

Standard Operating Procedures
Most businesses have a Safe Operating Procedure (SOP) for one thing or another. Usually these are printed off sheets of paper that are given to the person to read and sign. Well not any more because with our Compliance Management Software System we have it all covered.
Once signed they are then filed away in a room gathering dust until the day they're needed and even then they usually can't be found! With our Compliance Management System all that is a thing of the past.
The Procedures are hosted on the system to be viewed and digitally signed which enables the signed procedures to be found quickly and easily at any time of the day or night.

Making Form Fill & Storage Easy
Health Questionnaires, Appraisals and New Starter Forms can easily be created, completed and stored on the system with the added advantage of setting alerts for certain criteria.
For example, what if you had a new starter questionnaire with a question of "have you had any back problems within the last 3 months?" If their answer was yes, you'd want to know wouldn't you?
Well with our Compliance Management System that question can easily be adapted to send you an alert immediately so you can investigate further.

Qualification Upload and Verification
So let's say you have a contractor on site and you need to make sure he has the correct qualifications.
Well, with our Passport Journey you can include not just a certificate upload section but a renewal or reminder date. That means that when a certificate loses its validation you'll be notified when.
On top of this the system can be adapted to refuse him access until the problem has been resolved.

Signed Company Policies
We see many companies go through the work of a long PowerPoint Induction only to finish off with sheets and sheets of paper that need signing and storing.
This makes the Induction not just expensive to print and store but environmentally damaging to the planet. All this when we're supposed to be working towards a cleaner and more efficient society.
So let's say no more printed sheets, no more stored files doing nothing else but catching dust, let's just use a smart system that gives you everything you need in one place.

Audit Management
Let's face it, many people are using PowerPoint and paper for Inductions, an LMS System that they've tried to adapt for their training and a multitude of different systems including Word and Excel for everything else. So what happens when you need to audit the information? You'll be searching different software packages for different information for different people. What a job that could turn out to be! Well with the PowerPlus Compliance Management System the job couldn't be easier because all of that information is kept in one place and accessible anywhere you can get an internet connection. You can search date ranges, departments, Individual Users and all easily downloadable in either pdf or excel if needed.

Photo Uploads
In larger companies you might want to add a photo to a person's profile. This might be a facial photo or licence photo.
As part of the Compliance Management Software we already include a section where photo uploads can easily be added to the Passport Journey, you just have to decide what pictures you want to upload!

Security Card and QR Code Checker
Part of the Compliance Management Software includes a feature where you can print off your own security cards with photo and QR Code.
But why do I need a QR Code I hear you ask? Well, by simply scanning the QR Code on any smart phone you will be able to get a quick overview of what the persons details are including passes, fails and if the person has been banned from the site. You can use your own printer or let us supply you with one of our approved printers.

Entry / Exit Systems
Our Paxton API plugins can allow you to ensure everyone who arrives on site has an in date induction or other mandatory training. Cut down on wait times at security by letting our Compliance Management Software do the checks for you.

Monthly Driver Licence Checks
We often wonder how many companies take the details of a new employee's driving licence details only then to forget to ever check it on a regular basis.
It might be that the person has got more points or indeed maybe the old points have lapsed. You have a duty of care to keep this information up to date for not just the law but for your insurance as well.
Part of our Compliance Management Software automatically checks a person's details against the DVLA database each month and reports back to you if anything has changed.

Certificate Download
Certificates of completion for the company induction or any safety awareness course is provided to each user, these certificates can be downloaded, printed or accessed by company management at any time.
These certificates can be provided as proof of security and compliance to manage who is able to enter a site or office.
Each certificate holds a QR code, which is unique to each employee. Scanning the QR code from any of their certificates will bring up the employee's full training records and allow you to check their training within seconds.

Contractor Heroes
For our Principal Contractors, we offer remote training to your contractor leads who are able to manage their team on your Compliance Management Software. By passing on the responsibility of checking inductions, training and competency to your Contractor Heroes you can save valuable time and money.

User Banning
If someone is banned from site, banning them from the Compliance Management Software will alert any site manager who spot checks them using their QR code, and if you have an entry/exit system with us, they will not be permitted on site. With our banning feature you can be confident that nobody will "slip through the cracks".

Fully Branded Launch Pack
Alongside the other features of the Compliance Management Software, you will receive fully branded QR Code posters, email flyers and tutorial guides to help your operatives access the induction and training hassle free. Everything is branded to adhere to your guidelines and comes across as your brand - just think of us as an extension of your team and not a separate company.

CSCS Card Checker
Our CSCS Card Checker will verify the card number against each staff member's name on the CITB database to ensure the details are correct and genuine. The Compliance Management Software will notify you when the CSCS Card is due to expire - let our system do the heavy lifting for you.

Risk Alerts
Our smart Compliance Management Software will automatically send a designated member of your team if certain risks are triggered, for example if one of your staff answers "Yes" to "I have a heart condition" in a medical self declaration. No more time wasted reading through questionnaires to identify risks, your team will only be notified of the relevant information.

Notes Section
On the Compliance Management Software you can add notes to staff member's accounts to easily and effectively communicate with other managers, with the option to have these expire. Does someone require supervision? Has someone been yellow carded on site? Make sure your team can be aware of this in one smart hub.

Booking In To Site
Our booking system allows contractors to book site visits in one easy to use and intuitive place. Our Compliance Management Software automatically notifies the host for approval, requests RAMS for the job and communicates with the host and the visitor throughout. Your portal admins can view and manage bookings in the Admin Calendar.

Sign In / Sign Out
Have your contractors sign in and out of site with a QR code or manually with security. If they haven't completed their induction they'll automatically be asked to when they try to sign in to the Compliance Management Software. Eliminate human error and have confidence that everyone on site is inducted, trained and well informed of everything they need to know on site.

Fire Register
Export a fire register of all staff currently signed in on site in the event of an emergency. Our Compliance Management Software can ensure that all portal administrators can export and download a fire register, from any location, on PC, mobile or tablet. Don't be held up by paperwork when you need it the most.

Remote Staff Training
Our support team can offer remote training for how to use our Compliance Management Software to your site managers, contractors and office staff to guarantee the full team is on board and ready to go for launch. By having the full team onboarded and excited for the project we can make sure the transition into the new system is smooth and pain free.

Contractor RAMS Upload
Working with Principal Contractors we can facilitate the hosting RAMS for each contracting company, accessible to their staff only. In one site specific induction, your contractors can sign your RAMS alongside their own company RAMS before sitting the induction.
A compliance management system (CMS) consists of an integrated system of written documents, processes, tools, controls, and functions to make it easier for organisations to comply with legal requirements.
The PowerPlus Compliance Management Software is a simple integrated way of ensuring all employees, visitors and contractors within your organisation are following a b set of rules and standards, or as we like to call it… their Passport Journey!
This "journey" helps companies to keep all their information safe, secure and all in one place so you don't have to go searching to get the information you need.
The system works in tandem with your Health, Safety and HR Departments to ensure all employees, contractors and visitors are managed in one easy to use place helping you to save time, save money and comply with even the most stringent of rules and regulations.
Keeping up to date with government legislation is always going to be an important part of any organisation's procedure, process and failure to keep organised and up to date can land managers in deep trouble in the event of an incident. But by using the PowerPlus Compliance Management Software you can now rest assured that you will have taken all due care and diligence to keep you and your organisation on the right side of the law in an easy to use system that will constantly grow with your business.
All this in ONE PLACE to drive that paperless office you always wanted.
Compliance Software Frequently Asked Questions