Abrasive Wheels
About the course
Introduction
Almost half of all accidents from abrasive wheels happen due to unsafe working practices and operator errors. If you or any of your staff are working with abrasive wheels then following strict health and safety practices is paramount in order to protect both yourself and others from harm.
Who Should Take This Course?
Our Abrasive Wheels course is for anyone who uses abrasive wheels in their work activities.
The course is particularly relevant for those who using bench grinders, pedestal grinders and angle grinders.
Although the training doesn't cover the use of specialist grinding machines, the health and safety information throughout the course is still applicable and crucially important.
This course has been written at an introductory level and no pre-requisite training is required however, experience of using abrasive wheels would be advantageous.
The Course Overview
Our Abrasive Wheels course will provide you with an introduction to working safely with abrasive wheels. After completing the course you will easily be able to identify the hazards, understand the risks and know which important control measures are needed to prevent injury and ill-health.
Ensures you comply with UK Health and Safety legislation.
Developed by our health and safety professionals.
Approved by RoSPA.
Fully online course and assessment with no time limits.
Full video course with presenter.
Approximate duration is one hour.
On completion, certificate can be printed immediately.
Certification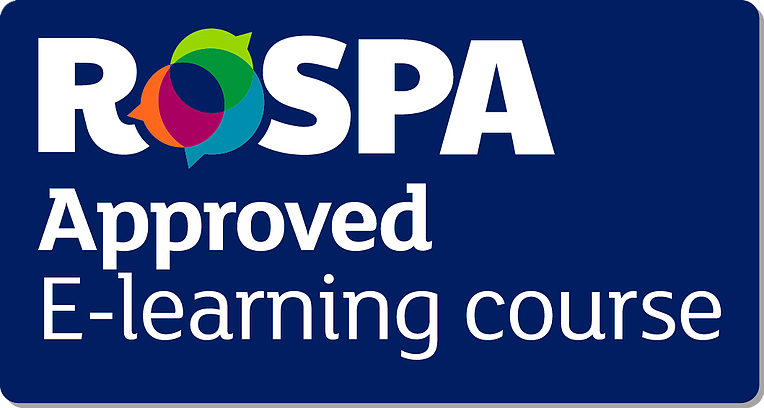 This course is approved by RoSPA, the Royal Society for the Prevention of Accidents, for providing quality and content-approved training. On successful completion of the course you will be able to print off your own Certificate of Completion which can be used as evidence for compliance and audit.
Course Content Videos
Video 1: Introduction to Abrasive Wheels
Video 2: The Risks
Video 3: Risk Management
Video 4: Safe use of Angle Grinders
Video 5: Dust Suppression
Video Durations
Video 1: 4 Minutes 20 Seconds
Video 2: 4 Minutes 40 Seconds
Video 3: 3 Minutes 47 Seconds
Video 4: 4 Minutes 40 Seconds
Video 5: 3 Minutes 57 Seconds
Total Duration: 21 Minutes 24 Seconds